I love my work! Editing allows me glimpses into the minds and hearts of incredible people–people whom I otherwise would never meet. So many fascinating stories go untold unless they are written down and put into some kind of published form. I have the privilege of helping amazing human beings do that very thing. My bookshelf (okay, one of my bookshelves) is reserved for books I have edited, either entirely or in part. These edited books are my trophies. They are evidence that what I do matters, makes a difference, and is part of dream-making.
So this page is dedicated to my beloved clients with my heartfelt appreciation for trusting me with your stories, your ideas, your inspiration, and your struggles.
Fiction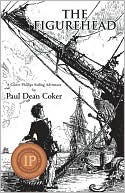 The Figurehead by Paul Dean Coker is an exciting tale of sailboats, spies and subterfuge. Set in Marblehead, Massachusetts, the story dramatizes important events leading to the signing of the Good Friday Agreement in 1998, ending age-old hostilities in Northern Ireland. It's a great read for everyone who loves mystery, sailing, and learning about significant events in history. Winner of the Independent Publishers' Bronze Medal for best historic fiction-2007.
---
Faithfulness: The Surprising Key to a Life of Joy and Meaning by David Linn. A moving story of young love, heartache, friendship, and war entwined with 33 insightful Bible studies on walking with Christ through the battles of life. Winner of the 2008  Christian Choice award for best devotional  book.
____________________________________________________
Any Port in a Storm by Paul Dean Coker. A quirky collection of short stories revolving around the theme of finding refuge in the storms of life. Paul Dean Coker is an award-winning author and Fellow of the Royal Society of Arts.
---
Non-Fiction
Your Child's Divorce by Marsha Temlock.  When an adult child's marriage ends, lots of folks are hurt. The divorcing couple, of course, and their children. Until now, however, little attention has been paid to the parents of the divorcees. Temlock's examination of this sensitive topic offers parents a friendly guidebook packed with helpful information and suggestions from parents who've "been there." Her five-stage model of the divorce process for parents (Accepting the News… Rescuing Your Child… Responding to Changes… Stabilizing the Family… Refocusing and Rebuilding) will help readers to stay grounded through the emotional upheavals they'll share with their children and grandchildren. This practical manual puts an arm around the shoulder of parents of divorcing adults and supports them through the difficult days of the divorce process and its aftermath.
---
Building Your Marriage Upon the Rock by Mike Williamson is a comprehensive, interactive premarital  workbook. It  builds upon the fundamental truth that marriage is foremost about the kingdom of God and honoring Him.  Contained within its 170 pages are valuable tools to help couples evaluate their relationship and readiness for marriage.  For ordering info: www.genesis224.com 

---
The Now God by Roger Sponaugle. This powerful volume uncloaks the present application of scriptural practices categorized as only for the past or the future. It reveals how to operate in the lifestyle God ordained for humanity.
____________________________________________________
Almost Out of Grace by David Yanez. The author asks: Have your ever felt that you let God down in the way you handled  your dating or marriage relationship? How about that déjà vu feeling? That you've had the same (bad) experience before, but you can't help repeating what you know doesn't work. Emotions about our relationships are constantly shifting from highs to lows. If we know we are not in the right relationship, we still try to convince ourselves or our partner otherwise. Sometimes that convincing leads us away from God, Christian friends, family, and the church. Does this describe you? Do you ever wonder if all your rationalizations and poor choices have exceeded the limits of God's patience with you. Could you be almost out of grace? If so, this book is for you.
---
Power of Choice by Bokela Donatien. Through fascinating biblical reference and commentary, Bokela Bonyoma explores the significance of choice–both divine and human–as it relates to the application of godly principles. The God-given gift of free will requires disciples of Christ to be faithful and thoughtful in their decisions. These decisions determine whether you will have authority over the temptations of our society, or whether our society will trample you underfoot. Bokela Bonyoma offers answers to difficult questions such as: • Is God just a divine dictator? • What hinders us from acting Christ-like? • Why does God choose the weak and despised among us?
---
Therapeutic Farriery by Yehuda Avisar is a comprehensive manual written for both veterinarians and farriers. Its over 292 pages contain detailed illustrations,  photographs,  and an extensive reference list. Easily on par with any university textbook on the subject.
---
Bernard McCullough and Descendants by Tom McCullough. Travel halfway around the world with the wandering Irishman Bernard McCullough and his footloose kinfolk as they move ever westward ever faster. By ship, by covered wagon, by steam engine, biplanes and jet airplanes–the McCulloughs have done it all. This family history is also a tale of immigrants overcoming dark times of famine, poverty, welfare, alcoholism, greed, war and death. Nevertheless, perseverance, humor, and love overcome adversity and usher them into the 21st century. The author draws on oral tradition, photos, maps, legal documents, poetry, and song to breathe life into his ancestors' stories, and his own. Impressive.
---
Warfare Scripture Prayers & Declarations by LaKeshia Chambers.  As Christians, too often we are in the reactive, defensive position in spiritual warfare. Don't wait for the ambush of the enemy. Get on the offensive side of spiritual warfare by implementing the scriptural strategy of the Lord introduced in this book.
---
Embracing the Mystery of Love & Marriage by Wil & Jacquie Chevalier. The book of James has long been a favorite for Christians wanting to deepen their relationship with Christ and with one another. The practical truths in James are often tough to live out, especially in the closest of human relationships—marriage.  Embracing the Mystery of Love and Marriage offers twelve, group Bible-study lessons and a detailed leader's guide designed to apply the practical wisdom found in the book of James to our twenty-first century struggles as Christian couples. Poignant topics are part of this down-to-earth study that pulls couples out of the trap of feelings and emotions and into life-changing and marriage-strengthening action.
---
A Closer Walk by Wil & Jacquie Chevalier offers hope, encouragement, and the empowerment to endure through life's trials and testings. Through quiet moments together, a couple will gain practical insights based on the book of James. These 31 daily devotions can guide you into a deeper closeness and help you grow to be the dynamic team God designed you to be.
---
150th Anniversary of the Orthodox Seminary of Samara, Russia  by Vladimir Barhotkin, translated by Tatiana Korolkova. A chronicle of the formation and expansion of the Seminary through excellent historical narrative and fascinating photography. Christianity is far from dead in Mother Russia!

---
Memoir
This is a Good Day to Live by Janine Carter – a poignant memoir combining the journals of author Janine Carter and her two daughters, Amber and Bridget, chronicling their journey from Amber's diagnosis of cancer until her death in 1999.  Proceeds from sales of this book go to the Amber Leigh Carter Memorial Fund, providing dance scholarships for young women, like Amber, who express their joy of life so elegantly through ballet.
---
Journey of Blind Faith by Pamela Erhart will transport you into the heart of Vietnam in the 1960s. You will meet Lan, a young orphan girl who survives abandonment, abuse, homelessness and several near-death encounters. Miraculously, she escapes the Communist take over in 1975 but can never rid herself of the longing to know the fate of her family–the family that abandoned her to the streets of Saigon. As an adult, Lan takes a dangerous journey of faith back to South Vietnam to obey the call on her life: Go Find.
---
The Gift of Scars by Melissa McCormick. This memoir explores God's redeeming and restorative grace for those who fail to see their troubled pasts as treasures in the hands of an almighty, all-loving God. Addressing  issues of abuse, rejections, guilt, and self-hatred, Melissa courageously displays the scars of her own tragic childhood. At the same time, she extends hope and help to the hopelessly hurting. Today, she considers her scars to be gifts that God can use; but that wasn't always so. As part of her restoration to wholeness, God sent Melissa down a path she would never have chosen or dreamed appropriate. Her experience as a beauty pageant contestant, and eventually the winner of the title Mrs. Michigan International 2000, is evidence of the transforming power of God in a chronically insecure life.
---
Enemy in My Bed by Dorothy Dore Dowlen is a moving tribute to foreign war brides, like the author, who have suffered abuse in silence for the sake of loyalty to their vows and fear of being deported. So many women bear the burden of abuse caused by addictions and mental disorders because none is willing to speak up or offer a way out. Dorothy does both in her dramatic memoir of escape and survival.
---
Tales of the Titmouse by Pamela Barrett is a look into the dangerous world of drug smuggling. As a 23-year-old woman looking for love,  purpose, and trying to fill the emptiness she feels inside, Pamela's journey through the darkness of the drug world in the 1970s and '80s is a testament to the power of a mother's prayers and the faithfulness of God.
---
Lif
elines by Patty Gardocki is exactly what its subtitle promises:  hope for times of loss. Patty shares her personal stories with transparency and sensitivity. So much so that you start to think you really know her. Great writing!  And as a bonus, she includes her own photography to enhance the "you are there" impression of the story. This book will be a great gift for anyone in the trenches of grieving. After reading Patty's stories, they won't feel alone, and they won't feel as sad.
---
The Smile from the Other Side by Lynette Norton truly represents a labor of love. The heart-wrenching and gripping story of her teenage daughter's courageous battle with cancer was surely written through a veil of tears. But now the author is ready to inspire and assist other parents dealing with the uncertainties associated with having a terminally-ill child. Not only does Lynette share her intimate story, she also provides practical and scriptural resources to guide parents like her through their difficulties.
---
Many others edited books are currently in progress. Check back often to see the list grow!  I often compare myself to a midwife–assisting writers in the birth of their "baby." And the work getting to the point of holding that book in my hands IS labor! A labor of love. Congratulations, all of you!